This month we'd like to invite you all to give back to our community by helping us raise money for a local non-profit! Many of our agents grew up in the Ross community and we have sold many homes for friends and clients of ours in Ross. We would like to help our neighbors at Ross Community Foundation reach their fundraising goal of $375,000 this year!
The Ross Community Foundation is a non-profit 501c3 founded in March 2022 and is the first affiliate of the Hamilton Community Foundation (HCF). The RCF mission is to "support charitable activities of the communities to enhance the quality of life for its residents." Last year's campaign resulted in granting close to $27,000 to the following non-profit organizations in our Ross Communities in 2023.
| | |
| --- | --- |
| Ross and Morgan Ministries- $5,000 | Butler Philharmonic Ross Concert- $2,500 |
| St. Joseph Consolidated School- $5,000 | Ross Twp Historical Society Equipment- $500 |
| Ross Local Schools Intervention Materials- $4,000 | Inspiration Studio Mural for Firehouse- $2,000 |
| Ross Choral Association Uniforms- $2,500 | Ross Summer Band Camp- $3,200 |
| Harts for Hope- $2,250 | |
The RCF board is made up of volunteer Ross community members who feel passionately about giving back to their community. The Ross Community Foundation provides a way for community members to make lasting gifts for the improvement and enrichment of the community. The Foundation serves as an endowment that will benefit the community for years to come. They need OUR help to reach every member in need.
The RCF is conducting their 2023 "Community Harvest" campaign the goal is to raise $375,000 this year. Funds collected are invested by the HCF fund managers and only a specific amount of the growth is granted each year to non-profit organizations in the Ross communities, thus ensuring a financial legacy in perpetuity for the RCF. The HCF has generously waived their 1% management fee and has provided technical, fiscal, and administrative expertise at no charge. Each year grants are awarded to non-profit organizations utilizing an online application process. The RCF Board members, review applications and make grants.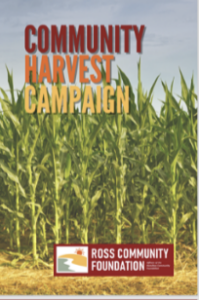 At Bowling & Kugler Realty, we feel passionately about helping our neighbors. We hope this inspires you to give back to your community in whatever way you can. You can donate today by clicking here. Or contact board chair Martha Mehl for more information about how you can make a difference in your Ross community!
Martha Mehl:
513-738-0909
martha.mehl@fioptics.com
We love and appreciate everyone in our community and hope to use this opportunity to spread the generosity of many
others who share a love for our community.
"GIVE WHERE YOU LIVE – LOCAL PEOPLE. LOCAL GIFTS. LOCAL IMPACT"