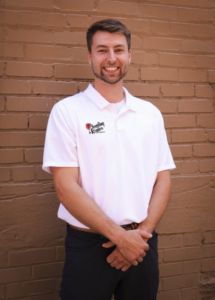 Meet our newest Bowling & Kugler agent, Logan Oliver! You could say that real estate runs through Logan's blood – he is a great grandson of our founders, Hugh and Eula Bowling who started Bowling Realty, later becoming Bowling & Kugler Realty. His grandmother, Brenda Oliver, also started her own brokerage in 1982, where his father was also a real estate agent.
Logan is a graduate of Badin High School '17 and graduated in 2021 from Ohio University with a degree in entrepreneurship while obtaining a certificate in sales. He is also a salesperson/site manager with Myron Bowling Auctioneers where he's worked for the past 9 years. He has grown up in Hamilton and knows all of the ins and outs of this city. Along with his passion for real estate, he loves spending quality time with his friends and family. Outside of work, he likes to spend most of his time outdoors either running, hunting, hiking, and kayaking. He is always thinking of what his next adventure could be!
What do you think sets apart as an agent?
I have been in the real estate business for nearly a decade. I have purchased, renovated, rented, and sold my own properties throughout Butler County. Throughout being in real estate and a salesperson, I have learned perseverance, dedication and communication skills. I am always willing to do whatever it takes to keep things moving. I will be able to use my past experience to help others find the perfect property.
What inspired you to join the Bowling and Kugler team?
Through working with Bowling & Kugler as a client, I always knew there was no other team I'd rather work with as a realtor myself. Members of their team have genuine care for their clients and decades of experience they bring to the table. I have always known there was no other brokerage for me. I am excited to make the transition from the investing side to selling real estate under the Bowling and Kugler name.